SEMBA enhanced its presence in the global market through FIND Design Fair Asia, one of the Asia's biggest interior design fairs.
SEMBA Corporation, a spatial design company headquartered in Japan, participated in FIND Design Fair Asia, an interior design exhibition held in Singapore, where brands from around the world gathered. Our booth had a total of over 400 visitors, providing an opportunity to raise our brand awareness in the global market.
Our booth became an international platform for information sharing and discussions, attracted visitors not only from Singapore but also from various countries, primarily in the ASEAN region, including Malaysia, Vietnam, and Shanghai. Our efforts garnered interest from a diverse range of companies, spanning from our conventional clients such as real estate developers and retailers to educational institutions and accommodation providers in the fields, which we have recently focused on.
We will develop the relationships built through this event and accelerate our international businesses, via the strengthening of cooperation among our bases, starting from Singapore.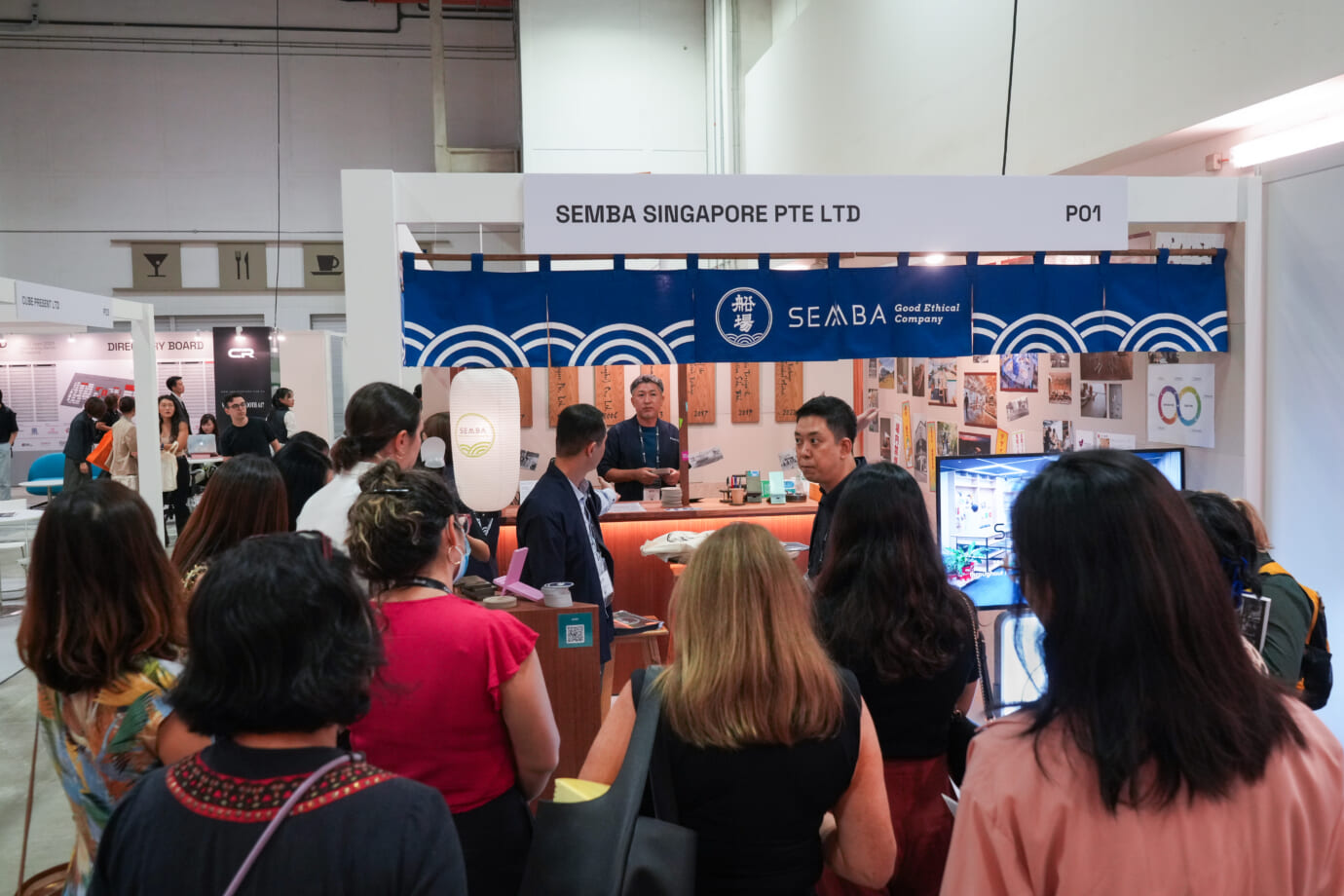 About our booth
Our booth, designed to imitate a Japanese style bar "Izakaya", stood out with its distinctive design compared to other booths and attracted the attention of visitors. Even in a small event booth, we used our expertise in creating a lively atmosphere and produced a place that generated communication. With the concept of "Izakaya", we also created props such as traditional Japanese Happi coats and company information tools in the form of a bar menu.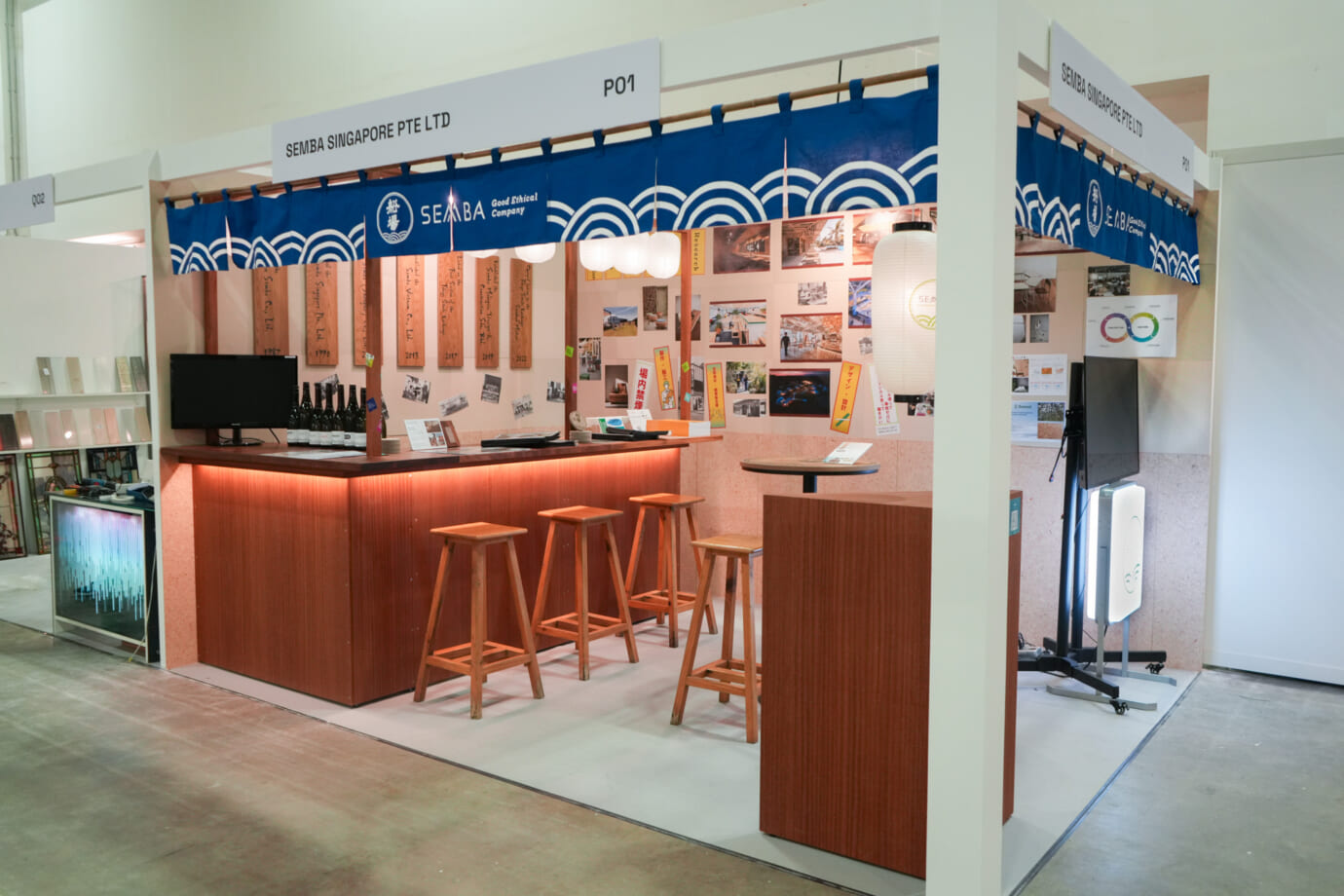 About partner companies
In our booth creation, we were not only particular about the "Izakaya" concept but also placed a strong emphasis on using Ethical Materials to embody Ethical Design we promote. Companies committed to ethical initiatives resonated with our Ethical Design activities and supported our participation in this event. The majority of the Ethical Materials used in our booth were generously provided by our partners.
We introduce the partner companies and the materials used for our booth.
Swood
We used interior material called "strand board" which is made by processing thinned wood from various regions in Japan such as cypress and cedar into fine shavings (strands) and molding them into boards using a safe and environmentally friendly adhesive called "Nongel" for the walls.

Goodrich Global
We used wallpaper called "Meguri Wall" on the walls. It is made from finely crushed and reused rice husks and is a natural material that is kind to both the earth and people.

Luci
We used tape light 'Luci SHIN FLEX LFY' on the counter. It is highly efficient and environmentally friendly with a high brightness while being energy-saving at 180lm/W.

APOD
We used custom print boards for a round table with our company name and wall-mounted menu cards. Through custom production, it eliminates design limitations and enables small-batch manufacturing, thereby contributing to waste reduction.

PEPPER WALL
A company, which produces sound-absorbing panels, using recycled felt etc., generously provided us with coasters as a promotional giveaway, made from the felt scraps from the factory.

Roger & SONS
Roger & Sons is a team of ethical makers and mavericks who craft fine furniture and thoughtful objects. The team spearheads "The Local Tree Project", an initiative that salvages trees that have been felled. It rehabilitates these abandoned logs by turning them into durable, future-proof objects and furniture. They made a counter table at the booth from thinned wood.

LUPP!
A company, which provides a circular solution for low-value plastics, generously provided us with coasters made from recycled beverage cartons as a promotional giveaway.

We will continue to promote our global business, with collaboration between our overseas and Japanese bases, under the theme of "SEMBA One Asia". Thank you very much for the numerous attendees.
Return to the list of news