Company Overview
Company Overview
Corporate Name

SEMBA CORPORATION

Head Office

9F, Seavans South Building, 1-2-3 Shibaura, Minato-ku, Tokyo 105-0023, Japan

Founded

July 1947

Established

February 1962

Capital

JPY 327 million *as of Feb. 28, 2023

Stock Exchange Listing

Tokyo Stock Exchange Standard Market (securities code: 6540)

Scope of Business

Spatial design services, including market research & analysis, concept formation, planning & consulting, design, production & construction, space direction using digital technology, maintenance, and facility operation.

SEMBA Corporation provides services for a wide range of clients, from commercial spaces such as large-scale commercial facilities and restaurants, to offices, educational institutions, healthcare facilities, hotels, and leisure facilities, in Japan and five locations worldwide. Based on our mission of "Creating Future Friendly Spaces," we provide comprehensive support throughout the entire process of spatial design.

Registration

First-class architect's (architects and building engineers) office
Tokyo Metropolitan Registration Number 35901
Osaka Prefecture Registration Number 8243
Fukuoka Prefecture Registration Number 1-12772
Special Construction License
License number issued by the Minister of Land, Infrastructure, Transport and Tourism: (Toku-2) No.16488(Interior finishing, building construction, carpentry, scaffolding and earthwork, steel structure construction, painting, plastering, masonry, tiling, bricklaying, and blockwork, glazing, waterproofing, and joinery)

Annual Turnover

JPY 19 billion in FY2022
(SEMBA Group: 22.8 billion)

Number of Employees

384 (SEMBA Group Total: 531) *as of December 31,2022

Trading Banks

Yaesuguchi Branch, Mizuho Bank, Ltd.
Yaesudori Branch, UMFG Bank, Ltd.
Directors
President and CEO
Daisuke Yashima
Chairperson
Hirokazu Kuriyama
Director

Shigeru Kuriyama

in charge of Design

Director and Executive Officer

Hiroaki Akiyama

in charge of Corporate Planning, Finance, Accounting, and PR

Independent Director and Full-time Audit & Supervisory Committee Member

Futoshi Kai

Independent Director and Audit & Supervisory Committee Member

Mika Matsuo

Independent Director and Audit & Supervisory Committee Member

Kazumi Shimizu
Executive Officers
| | | |
| --- | --- | --- |
| Executive Officer | Takanori Horita | in charge of Overseas Business |
| Executive Officer | Maki Katou | Client Officer |
| Executive Officer | Ryouta Asada | Client Officer |
| Executive Officer | Akira Kanbe | General Manager of Ethical Design Unit and Zero Waste Promotion Officer |
| Executive Officer | Yutaka Takii | General Manager of Eastern Business Unit |
| Executive Officer | Kazuya Takahashi | General Manager of Western Business Unit |
| Executive Officer | Koushiro Watanabe | General Manager of Creator Business Unit |
| Executive Officer | Mitsuaki Takeuchi | General Manager of Production Unit |
| Executive Officer | Takahiro Tahara | in charge of Human Resources Strategy |
| Executive Officer | Daisuke Yokoyama | Kansai Branch Manager |
| Executive Officer | Norihiro Takaki | Kyusyu Branch Manager |
Executive Fellow
| | | |
| --- | --- | --- |
| | Norihito Narutomi | Evangelist, Ethical Design Unit |
Organization
/ As of July 1, 2023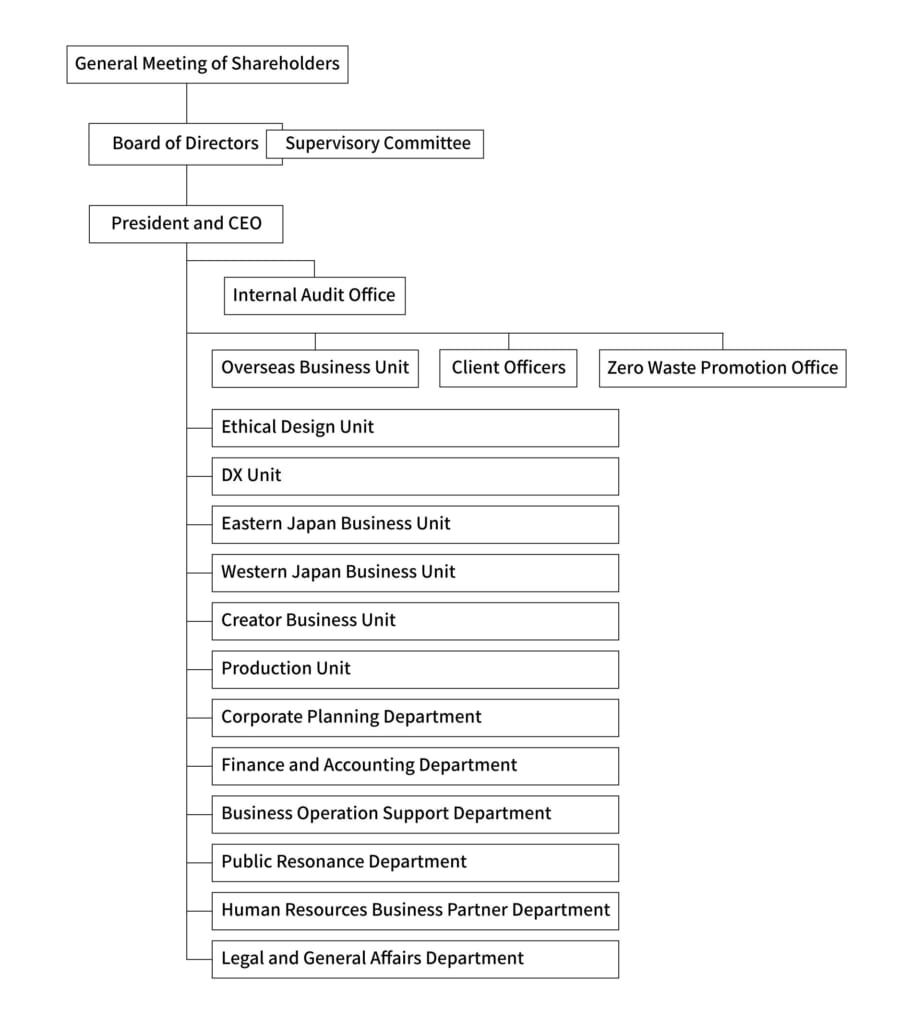 Return to Corporate Profile